SpartanNash is committed to environmental sustainability. We know that to be successful we need to evaluate how our business decisions — in the short- and long-term — will impact the environment through our consumption of natural resources and generation of waste materials. We also recognize that the way we operate has a direct effect on the natural environment, the communities we serve and our bottom line. We continue to raise the bar on going green with responsible solutions, energy efficiencies and sustainability initiatives aimed at respecting our environment and protecting our planet.
Environment, Health and Safety
Investing in the safety of our Associates builds upon our People First culture of caring, and there is nothing more important than ensuring our Associates go home safely to their families every day. In 2021, we hired a VP of Environmental, Health and Safety (EHS), a Supply Chain EHS Manager, 17 Safety Specialists in Supply Chain, as well as a Retail Safety Specialist. Additionally, there is now a Safety Captain in every retail store.
Measured Improvements since September 2020*
+53% in Safety Incident Rate
+75% reduction in Severe Incidents
*As of 11/2/2022
In 2022 we published our first Environment, Health and Safety (EHS) Commitment and Policy
Animal Welfare
Learn more about our Animal Welfare initiatives.
Sustainability Initiatives *
Plastic Recycling
We partner with Trex, a manufacturer of wood-alternative decking, to recycle 100% of the stretch film from our stores and distribution centers in Michigan and Omaha. This stretch film is recycled into post-consumer products, such as composite decking used for porches and decks. In 2021, we recycled 482.5 metric tons of stretch film, which is equivalent to 175,000 square feet of Trex decking.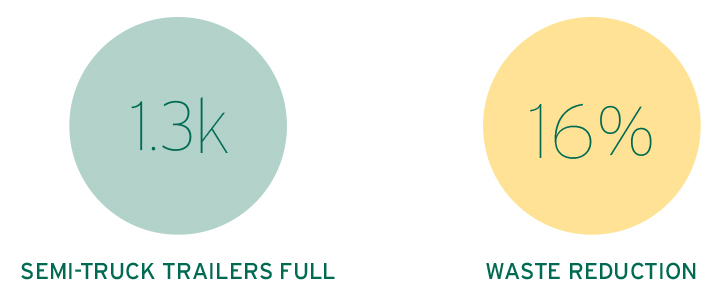 Energy and Emissions
As we continue to invest in energy-saving technology and equipment and renewable resources, our goal is to minimize our carbon footprint across the business.
Lighting Upgrades
We upgraded lighting to use LEDs in 84 stores and 11 distribution centers, resulting in a total annual energy reduction of 28,083,191 kWh. This reduced our CO2 emissions by 19,902 metric tons, which is equivalent to energy use of 2,397 homes for one year.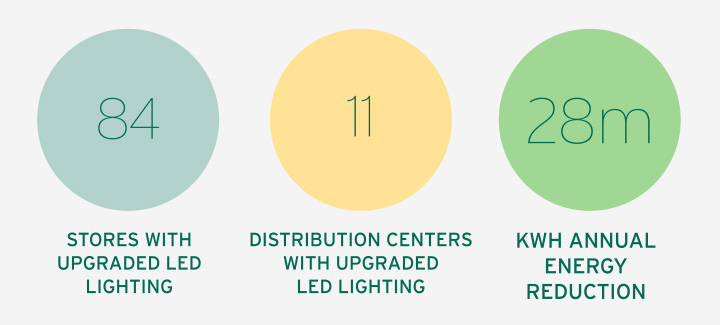 Commercial Fleet Efficiencies
To reduce our carbon footprint, we've focused on increasing the efficiency of our commercial fleet. In 2021, we increased our fuel efficiency through equipment enhancements: In 2022, we will focus on reducing the miles our food travels through network optimization. Planned collaborations with logistics partners are expected to drive supply chain efficiencies that maximize the delivery and transportation of our goods. We'll also be introducing a new Transportation Management System to further reduce our overall miles traveled by calculating more efficient routes.

* 2021 ESG Report